The statistics change from organization to organization; regardless in Denver, Colorado the presence of high Radon levels in homes is commonplace. So it goes without saying that performing a Radon test to check the levels in your home is not only critical to your family's health but there is literally no reason to complete this easy test. Breathing Radon regularly over time can lead to lung cancer, as a matter of fact Radon is the second leading cause of lung cancer in the United States according to the EPA and Surgeon General.
Testing your home for Radon is the cheapest solution to finding the radon levels in your home. You can hire a professional to complete the test for you as well. There are two main types of Radon testing kits that are used, the short-term test and the long-term test. You will want to start with a short-term test, this will give you an idea as to whether or not Radon levels are acceptable.
Short Term Radon Test
The short-term test for radon will take place in the lowest level inside your home, if you have a living area in this area of the home that will be the best place to test. You can typically purchase Radon testing kits at home improvement stores, hardware stores or online. At the end of your test if your Radon testing kit has given you a test result of 4 or higher you will definitely want to take action per EPA guidelines.
A2Z Radon believes that there is absolutely no safe level of Radon, so you will still want to entertain the thought of Radon mitigation with levels of less than 4. Talk with your Radon professional to determine the best course of action if your test gives scores of less than 4 pCi/L.
If your test is 4 pCi/L or higher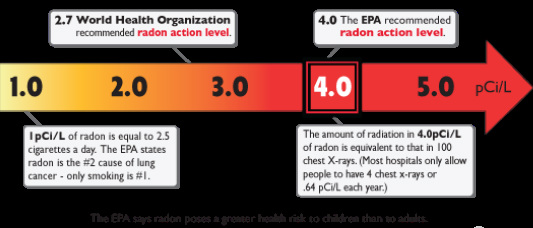 If your short-term test reveals a score of 4 pCi/L or higher, you will want to confirm your test results with a long-term test, this is the best way to know the Radon level over time. If the test score is significantly high from the short-term test, it might make sense to completely forego the long-term test and just look into mitigating the current Radon issue and re-testing.
You will want to test your home again for Radon also if you have most recently completed remodeling or any changes to your current HVAC system, especially duct work.
If after two tests you have a score of 4 or higher in both test results, you will want to hire a qualified contractor to assist you with mitigating the radon levels in your home or you will want to come up with a plan on how to do this yourself.